All Quotes from leading Insurers

We Find You Quotes In Minutes

Reliable Service
Paintball Insurance premiums really hit the target.
If you are looking for paintball insurance or paintball team insurance, at Peacock Insurance Services we arrange all types of paintballing insurance from paintball equipment insurance and paintball instructor insurance to deliver the best paintball insurance quotes we can find.
We search over 40 insurance companies to find you the lowest rate on the market for any form of paintball insurance and return to you in minutes with a quote for paintballing insurance we think you'll find hits the spot.
This is what Paintball Insurance have for you:
Public Liability
Employers Liability
Material Damage Cover
Professional Indemnity
Business Interruption
If you are looking for paintball insurance or any form of paintball coaching insurance why not try us now for a paintball insurance quote and see how much you can save?
If you need to talk to one of our experts directly please call 0800 882 4626 or complete our quotation request form.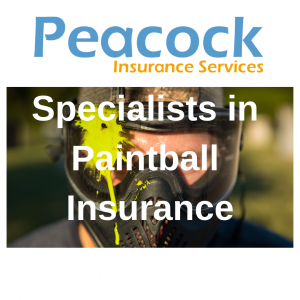 '"Received documents straight away via email. Call was dealt with all good and sales person was very knowledgeable about the policy. Very happy with the service."'
'"Call was dealt with fine and sales person's knowledge about the policy was fine. "'
'"Sales person who set up the policy was fast and efficient. "'
NOT WHAT YOU ARE LOOKING FOR?
SEE WHAT OTHER TYPES OF LEISURE INSURANCES WE OFFER