All Quotes from leading Insurers

We Find You Quotes In Minutes

Reliable Service
Whether you're looking for your first Bouncy Castle Insurance policy or seeking a better price on your current Inflatable Insurance, let Peacock Insurance find you a great deal.
BOUNCY CASTLE PUBLIC LIABILITY INSURANCE EXPERTS
Why choose Peacock for your Bouncy Castle Insurance?
Owners of inflatable play equipment including bouncy castles, rodeo bulls, ball ponds and soft play equipment – Cover provided for – public liability, employers liability and loss or damage to equipment.
We have access to specialist Inflatable Insurance schemes for any hirer or operator of inflatable play equipment.
For a competitive no-obligation quote, or for further information, talk to our team of experienced staff today on 02476 437 648, or alternatively request a quote online by completing our quotation form.
We also arrange cover for events such as fetes, charity days or parties, please click Event Insurance and request a quote to found out more.
We welcome all enquiries from manufacturers of inflatable equipment, We can arrange bespoke packages to meet your clients needs which may also help increase your sales. Contact salesonline@peacockinsurance.co.uk for more information.

Member of the BIHA (British Inflatable Hirers Alliance). To visit their site please click https://www.biha.org.uk
We have access to schemes that can cover all of your Inflatable Insurance requirements, examples of the types of apparatus / polices are listed below:
Activity Castles Insurance

Assault courses Insurance

Ball Pond Insurance

Balloon Typhoon Insurance

Bouncy Boxing Insurance

Bouncy Castles Insurance

Gladiator Joist Insurance

Human Table Football Insurance

Inflatable Bar Fly Insurance

Inflatable Bungee Run Insurance

Inflatable Slides Insurance

Laser Quests Insurance

Obstacle Courses Insurance

Penalty Shoot Out Insurance

Pole Joust Insurance

Quad Bikes Insurance

Rodeo Bull Insurance(Both with and without dead mans handle)

Rodeo Bulls Insurance(Both on and off licensed premises)

Rodeo Bulls (For both adults and children)

Sumo Wrestling Suits Insurance

Surf Simulator Insurance(Both on and off licensed premises)

Train rides Insurance

Un climbable Ladder Insurance, Unclimbable Ladder Insurance

Unrideable Bike Insurance, Un ride able Bike Insurance

Velcro Olympics Insurance
If you can bounce on it and your apparatus is not listed above, don't worry get a quote today by calling our Sale Hotline on 02476 437 648, or alternatively complete our quotation form.
More information about Bouncy Castle and Associated Event Attractions Insurance
These schemes extend to many diverse attractions within the event arena such as stalls, amusements and fairground type rides.
Whatever your insurance needs, from public liability to goods in transit and material damages (theft, accidental / malicious damage etc.), we can find a competitive policy to suit your requirements and your pocket.
Not only can we at Peacock arrange insurance for all the above and similar equipment, we can insure all other forms of event entertainment including stalls, mechanical rides etc. such as:- Hot Dog Stands, Laser Quest / Quasar, Paintball, Waltzers, Rifle Ranges etc.
A brief description of some of the equipment:
Bouncy Castles
For both adults and children, supervised or unsupervised, a favourite at any event.
Sumo Suits
Big, foam filled suits making the participants look like huge Japanese wrestlers, the idea being to wrestle or throw the opponent out of the padded arena or onto their back, usually followed by a 'splat'!
Assault / Obstacle courses
Inflatable assault courses where participants climb air filled walls, squeeze through gaps, climb cargo nets etc.
Human Roulette
A giant spinning wheel where bets are taken on when the participant will fall off and from which numbered / coloured segment.
Bungee Run
Participants attach themselves to a long piece of elastic and run along an inflatable track until they are sprung backwards.
Bar Fly Velcro Wall Inflatable
A massive event favourite where participants run, jump and stick to a huge inflatable Velcro wall.
Rodeo Bull
Mechanical bucking bronco, or reindeer, or sheep! Participants hold on tight for as long as they can until they are flung off onto a safe inflatable floor.
If you need to talk to one of our experts directly please Call 02476 437 648 or complete our quotation form.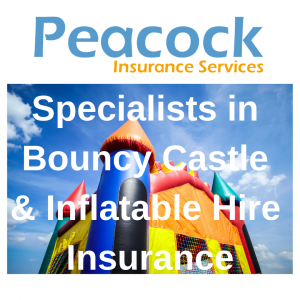 '"Received documents quickly. Policy set up by the sales person was fine."'
'"Sales person who set up the policy was fantastic and extremely helpful. Sales persons knowledge about the policy was very good."'
'"Sales person who set up the policy was brilliant and their knowledge about the policy was very good. "'