 All Quotes from leading Insurers Find Quotes In Minutes Reliable Service
INFLATABLE HIRE INSURANCE TAILORED AND COMPETITIVELY PRICED FOR YOU
With an estimated 23 million uses of inflatable hire equipment and over 10,000 injuries reported in 2012 which are steadily increasing having inflatable hire insurance in place is of paramount importance. Injuries, even fatalities are reported regularly. A claim against you or your business with no inflatable hire insurance in place could be catastrophic.
But it's not just the safety of the public. If you employ; even on a temporary basis then insurance is compulsory. What if your inflatable hire equipment was stolen or damaged whilst in transit. At Peacock Insurance we can tailor an inflatable hire insurance package specific to your needs.
And we don't just insure your inflatable hire equipment! Whatever leisure equipment you operate we can arrange insurance for. And it doesn't matter whether you're large operator or a one man band your business is always importance to us.
And finally it doesn't have to be expensive; not with Peacock Insurance. We can offer you via our insurer panel competitively priced insurance for inflatable hire including Public Liability cover up to £5M, tailored specific to your inflatable hire business with full risk management advice.
TALKING ABOUT SAFETY!
The Health and Safety Executive have published detailed guidelines on their website via the link here. It covers what the consumer should consider before they buy or hire. They recommend 2 industry inspection schemes to provide your customers with peace of mind when hiring. How to set up safely and what tests to carry out before use and finally safe use, supervision and monitoring.
Following this guidance as well having inflatable hire insurance cover in place will not only help protect your customers from the risk of an accident but will also help you win business over those who don't have the same care for risk management and the welfare of their customers.
Click to obtain an Inflatable Hire Insurance quote now and buy online 24/7 or call 02476 437 600
DID YOU KNOW? You could SAVE UP TO 25% by calling & allowing us to personalise your inflatable hire insurance cover specific to your needs!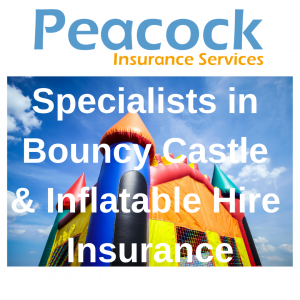 '"Received documents quickly via post. Had no issues by the sales person who set up the policy. "'
'"Received documents quickly. Sales person dealt with the policy set up good. "'
'"Received documents after a couple of days in the post. Sales person dealt with the policy set up fine. "'
NOT WHAT YOU ARE LOOKING FOR?
SEE WHAT OTHER TYPES OF LEISURE INSURANCES WE OFFER